The market is blooming with flowers this week. Pop by Rancho Los Andes to pick up an AMAZING bouquet of cut flowers. The perfect pick me up for a long week a the office! Zaklan Heritage Farm not only grows tasty veggies but they grow flowers too. Pick up a handful with your veggie purchase!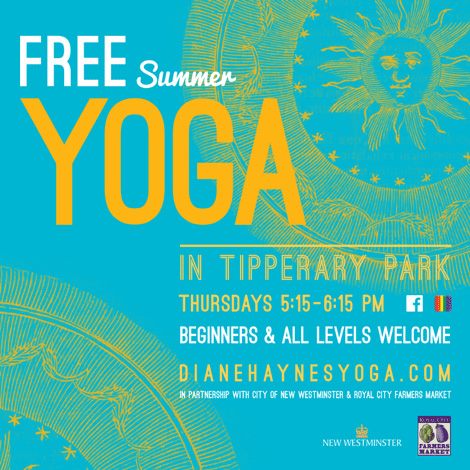 The first official day of summer has passed us by (along with a full moon… anyone else feeling a little loopy?) and the arrival of lazy summer days means YOGA. Every Thursday Diane Haynes Yoga will be running a FREE class in Tipperary park from 5:15 to 6:15. This class is weather dependent so check outside before you come on down with your yoga mats.
What's happening at the market this week?
Entertainment
For the Kids
Have fun in our Mini Farmers Market play area (free)
Make a crafty craft with our friends at The Stage New West (free)
Face painting with Allyson ($)
For information on where our market is located, how to find parking and transit directions visit our Summer FAQ page.
Download the Ultimate Farmers Market Shopping List to help with your meal planning and purchases for the week.
Farm Fresh Produce
Greendale Herb and Vine – herbs, mini cucumbers, tomatoes, eggplants, greens
Ripple Creek Organics – strawberries, blueberries, lettuce, spinach, salad mix, plant starts, radish, garlic scapes, chard, kale, nugget potatoes (Certified Organic)
Ossome Acres – rhubarb, radishes, pea shoots, spinach, arugula, oak leaf lettuce, eggs, raw walnuts (Certified Organic)
Bose & Sons Family Farm – lettuce greens, carrots
Harvest Direct Farms – Cherries
Fresh Quality Produce Ltd – raspberries, strawberries, zucchinis, nugget potatoes, peas, peppers
Zaklan Heritage Farms – Cherries, pac choi, Leaf lettuce, head lettuce, mini gem head lettuce, baby beets, hakurei, radishes (all sorts), salad mix, mustard greens, arugula, swiss chard, kale, baby kale, spinach, mint, sage, oregano, thyme, brocoli, napa cabbage, kohlrabi, green onions
Country Village Market – strawberries, raspberries, blueberries
Nutrigreens – microgreens
RCFM Merchandise Stall – Dried morel mushrooms
Cheese & Dairy
Golden Ears Cheesecrafters – Cheddar-Aged Medium, Brie, Jersey Blue, Cultured Butter, Havarti-Aged (Flavoured), Gouda-Aged Medium (Flavoured), Feta (Plain, Cranberry, Garlic Scape), Curds, Neufchatel (Plain, Herb & Garlic), Quark (Plain, Cranberry), Emmental, Velvet Blue
The Local Churn – hand churned gourmet butters
Greendale Herb & Vine – goats cheese
Beef, Eggs, Poultry and Seafood
Rockweld Farm – BC SPCA Certified frozen chicken and chicken products including eggs, dog and cat food
Wild West Coast Seafoods –  flash frozen fillets of Rock Sole, Petrale Sole, Rockfish, Ling Cod, Pacific Cod, Sablefish, Chinook/Spring Salmon, Coho Salmon, Sidestripe Shrimp, Halibut, Albacore Tuna Loin.
Wheelhouse Seafoods – seafood pasta and crab cakes, frozen salmon and spot prawns
Vale Farms – Beef, Lamb, Chicken, Turkey, Beef Broth, Pork all 100% grass fed (Certified Organic)
Local Beef & Eggs
Artisan Breads
A Bread Affair – breads, baguettes, ciabattas, rolls, scones (Certified Organic)
Gluten Free Breads & Baking
Bakery
Coffee & Snacks
Food Trucks & Eat On Site
Disco Cheetah – fusion Korean food truck
Gypsy Trunk Gourmet Fare – vegan burritos, quesadillas and sausages
Prepared Food (Dry Goods & Seasonings)
The Salt Dispensary – salted caramels, smoked salts and pepper mixes
Greendale Herb & Vine – Nuts (hazelnuts), Muesli, Infused Vinegars, Popcorn Kernels, Herbal Teas, Dried Lavender
The Raw Guy – kale chips, seasonings, raw cookies
Seedibles – all natural seasoning that increases nutritional content of meals
Prepared Foods (Pantry Staples)
Urbani Foods – cured meats, risotto balls and more
KICS Lemonade Syrup – syrups and salad dressings
Aji Gourmet – salsas and delicious condiments
Old Country Perogi – frozen perogies (gluten free and vegan options available)
Sidney Smoke House – jerky made on Vancouver Island
Health and Beauty
Scentimental Creations – soaps and personal care products
Purely Clean – an all natural way to clean your home
Jewelry & Artisan Crafts
Angelque Creations – handmade jewelry inspired by the Ocean
Out Designs – beautiful jewelry
Quality Oak Accents – hand crafted cutting boards by Louie
Wine, Beer & Spirits
Special Thanks to our Music Stage Sponsor Roland Kaulfuss: