On September 29, we hosted our first ever Long Table Dinner as part of Tourism New West's Feast on the Fraser celebration. Forty-five hungry RCFM supporters came out to dine under an open tent in Tipperary Park. The menu was filled with delectable items from our vendors.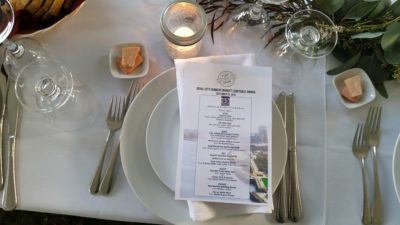 We were lucky to have a beautiful autumn day and the tables looked a treat thanks to a donation by the Bloom Bloom Room, a local florist based out of Sapperton.  The centrepiece garlands added the perfect ambiance for a harvest feast. The Uptown Business Association kindly allowed us to use their giant tents which set the stage.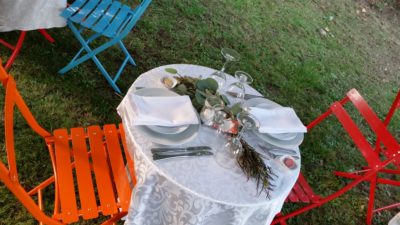 Diners were greeted with a glass of local Pacific Breeze wine and shrubs donated by Vancouver-based Mixers & Elixers. Shrubs are drinking vinegars—slightly sweet and slightly tart, we mixed them with soda water. They were served by marvelous volunteers from the New Westminster Youth Ambassadors Society.
The table held an abundance of bread donated by A Bread Affair and butter that was almost too pretty to eat. The Local Churn donated some unique combinations including tart cherry and sherry.
The opening course comprised a Caprese Salad that featured locally grown vine ripened tomatoes, fresh mozzarella, and a balsamic reduction. There was also a Hundred Mile Salad with kale, spinach, beets, goat cheese, candied pecans and what I sincerely hope were edible flowers.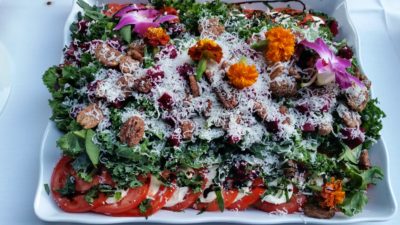 Salads consumed, we then moved onto the entrees which included char-grilled, wild-caught BC salmon that was served with a roasted pineapple salsa. If you haven't yet tried Wild West Coast Seafood's products we can attest to their top-notch quality. The diners also feasted on mushroom-hunter grilled Rockweld Farm chicken breasts, another generous donation from one of our popular local vendors. This wasn't one of those either/or situations—everyone got both salmon and chicken as well as mozzarella-ricotta stuffed agnolotti as a side. We also had roasted in-season local vegetables (because it was a Farmers Market event after all) and grilled corn on the cob from the Fraser Valley. We were lucky to be able to purchase ingredients from some favourite market vendors including Zaklan Heritage Farms, Bose + Sons Family Farm, Ossome Acres, and Greendale Herb & Vine.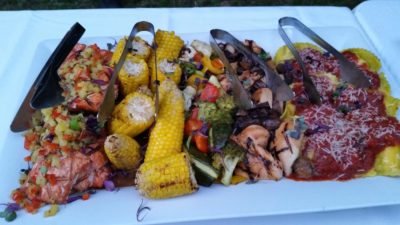 Unbelievably, diners still seemed to have room for the exquisite goodies donated by Sweet Thea and Delish Gluten Free Bakery. There was a choice of assorted tarts and gluten-free brownies and I do believe more than one person tried both a tart and a brownie (no judgement here!). Unfortunately no photos remain because anyone standing in the way of the dessert table would have been taking their life in their hands.
The Long Table Dinner was an incredible community feast! The generosity of local RCFM vendors + the company of good friends and neighbours + the deliciousness of eating local = the best kind of evenings in our books.