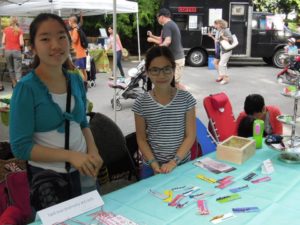 Hey Kids, are you interested in showcasing some of your crafty talents? Then the New West Farmers Market's Junior Vendor Market is for you! Kids 18 and under are welcome to participate by bringing crafts to show and sell. This August 24th, the NWFM will be hosting its 2017 edition of the Junior Vendors Market, generously sponsored by the Arts Council Of New West! Make the best of your last weeks of the summer and come display your talents, and possibly make some money!
A half table will be provided to every vendor and the vending area will be set under tents. Each junior vendor is asked to provide a reduced market stall fee of 5$ for reserving and renting their space.
Deadline for applying: August 21st, 2017
Junior vendors are also asked to bring:
a chair

a cash float for your sales
Take note that no food is allowed to be sold, only fun crafts!
To make things interesting, you could outfit your table with decorations and your name, or the name of your junior business to draw attention to your products!
We ask that all junior vendors be ready for a 2:30 set up time. The tents and tables will already be in place for you to set up your items. Your table should be ready to receive and serve customers by 3pm!
The market closes at 7PM so be mindful not to pack up your table items before the end of the market.
Parents, please note our kids' area will not be supervised by market staff and the kids' market is not a child minding service. Arrangements for them to be suitably supervised as they process transactions and interact with customers should be considered and made. We also ask for permission to take and use photos to be used in our future marketing materials, and will ask you to sign a document giving us that permission
Here's how to apply:
Please send an email with the subject line "NWFM Junior Vendors Market 2017" at
marketmanager@newwestfarmers.ca
In your email you should include:
Junior Vendor's name and parent contact information

Your list of crafty items you wish to sell
We look forward to having you with us on Thursday August 24th from 3PM to 7PM at the New West Farmers Market in Tipperary Park for our 2017 edition of the Junior Vendors Market!